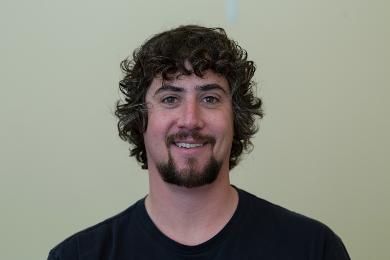 Sean McCann, M.S.O.M.,Dipl. O.M.
Offering Chinese Herbal medicine, chinese massage, dietary therapy, and taiji & qigong instruction
Experience in Chinese Medicine
Sean is an experienced practitioner of Chinese medicine. He offers an integrative approach that includes Chinese herbal medicine, Chinese massage, cupping, medical qigong, diet & exercise therapy, and more. He currently offers a variety of remote services as well, including taiji and qigong instruction and herbal consultations. Unfortunately, since developing a neurological disorder, narcolepsy type 1 with cataplexy, he had to give up his license to practice acupuncture. He hopes to become licensed again when his condition improves and he feels he can safely and responsibly utilize that wonderful healing tool.
Sean earned an M.S. in Oriental Medicine and a B.S. in Professional Health Sciences from East West College of Natural Medicine in Sarasota, FL, as well as a B.S. in Religious Studies from Cal Poly Humboldt (formerly Humboldt State University) in Arcata, CA. The combination of these fields of study feeds his passion for the study of classical Chinese texts and their relevance in the clinic and beyond. It is this passion that led him to deepen his understanding through the study of classical Chinese medicine & philosophy, daoyin, and martial arts with the Association for Traditional Studies (ATS) and the associated Alternative Clinic.
There, he learned a classical approach to Chinese medicine, allowing him to understand its roots and develop treatments that are more aligned with the strategies that allowed this system to thrive as the sole medical system in China for thousands of years. He is deeply grateful to Andrew and JulieAnn Nugent-Head of those organizations for their generosity in sharing their knowledge and experience. His strategies for treating internal illness and physical injuries using acupuncture, massage, and herbal medicine have been significantly shaped by his time with them.
Sean's approach to the practice of medicine is truly holistic, taking into account all facets of a patient's physical, mental, and spiritual experience. He views the mind-body as an integrated whole and utilizes all tools at his disposal to aid patients in cultivating health and overcoming illness. This includes the use of physical medicine (i.e. massage, acupuncture, cupping, & guasha) to directly affect the tissues of the body and herbal medicine to create internal conditions conducive to healing. Sean also utilizes medical qigong as a method for treating patients with a variety of illnesses, particularly the elderly and those with advanced, debilitating, or chronic diseases (for more information on Sean's approach to treatment, visit the Acupuncture & Bodywork page under the Services tab). Taiji and/or qigong instruction is often incorporated in order to increase a patient's understanding of themselves and enhance their ability to heal and stay healthy.
Experience with the internal arts - taijiquan, qigong, and beyond
Sean has over a decade of experience studying and practicing internal arts, including taiji, qigong, and yoga. This is balanced by a deep familiarity with traditional physical training. He has been involved in competitive athletics throughout his life, including playing varsity tennis at Florida Gulf Coast University while enrolled as a biology/pre-med student there. Having faced physicalinjuries on many occasions due to his various pursuits, he understands how hindering these can be and knows what it takes to fully recover. In fact, it was an elbow injury that, when healed by acupuncture, led Sean to shift his focus to the study of Chinese medicine. Largely due to this aspect of his history, he has a passion for the treatment of physical injuries and has cultivated the skills necessary to resolve them.
previous work and certifications
Sean was formerly certified as a Hospice and Palliative Care Acupuncture Specialist. In this capacity, he provided direct care to people with life-limiting illnesses. His understanding of this work was shaped by his time as a community health worker for ResolutionCare. He is dedicated to relieving suffering at near the end of life and uses his knowledge to assist patients and their loved ones in navigating the complex healthcare system.
Previously, Sean worked in nonprofit management, community organizing, and fundraising with Peace Action West, Uongozi - Centre for NGO Studies, Leadership, & Management, and The Fund for the Public Interest. During this time, his work focused on peace building, cultural preservation, sustainable agriculture, social justice, and foreign policy.
The common thread that ties together Sean's experiences is that of balancing personal cultivation with engaging in the creation of positive social change. For him, the field of medicine allows him to continuously work on maintaining this equilibrium, for cultivation is key to the skill of the practitioner, and health is a primary requirement for the development of strong communities.